next page previous page home page pics home

Hey, that's my name! Max's first ever 200 game gets him to the top
of the leaderboard after game one.

Alex, Philip, and an '8'....

Alex, Michael, and their Pros at the Pro-Am

Someday we'll look back and remember how cheap this is.... ?!?!

Beautiful Lake Havasu City inlet...

....and world famous London Bridge

Mr. & Mrs. Brennan

potential 2019 JBT SW Bowler of the Year Casey Candiotti

Matt Payne

it's called a 'bowling ball', Taylor...

Lanndyn Carnate wearing his Hawaii colors

the traveling New Mexicans

Rachelle Davis cool enough for shades

The Costa Crew is down to the Costa Two, Jimmy and Derek

Philip, Rachel, and Rachelle

Hey! It's De Shaun Jefferson!!

Kylee and Austen both give their best smiles for us...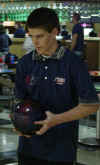 Kris already beats everyone righty, so how about lefty?

Robert Smith working on his form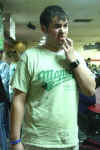 WHAT was on that french fry??!?

Felicia Mara after her impressive debut

Evan Tolson working on his opposite hand skills

The view from ABC Nationals 2005 in Baton Rouge, Louisiana

3 year-old Marcus Mullins becomes our youngest entrant ever, and held his own in the tournament as well!

Dueling cameras with Mrs. Payne

Happy ladies at Frontier: Lindsay Salhoff's mom, Tiffany King, and Frontier champ Lindsay



from the So Cal Invitational: Josh and Kaitlin's "big fake checks", the finalists pose

the crowd at BRC Zone Mesa


down time in Laughlin: Kaitlin, Jenny, and Mimi; 'Mimi's mommy' hiding on the river...

Team JBT from Kearny Mesa: Kaitlin, Anthony, Andrew, and Mimi
From the AZ Invitational: Justin turns $10 into $1000; The large crowd watches the finals; Invitational finalists
Bruce does some 'Arizona Living'; the JBT SW 'set' before another event begins...

Jerod gives Andy a lift after his big TPC win

a GREAT collage from JBT SW bowler Allie Ijams