Welcome to the 2017
JBT Las Vegas Main Event!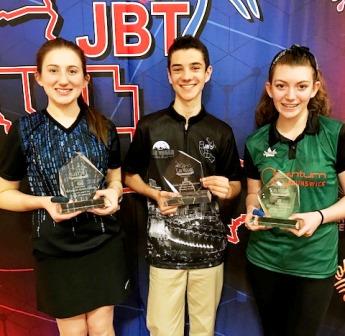 2017 singles champs Maranda Pattison, Solomon Salama, and Kristy Mace
Thanks to each and every one of you for bowling- please help us spread the word for the 2018 Main Event, Dec 26-30 at South Point!
CLICK ON ANY LINK BELOW FOR MORE DETAILS:
Click here for a combined, newspaper friendly results article
Click here for Open Scratch Singles results
Click here for Handicap Singles results
Click here for Girls Scratch Singles results
click here for Doubles results
Click here for warmup sweeper results
click here for Junior Gold results
click here for complete singles scores
Click here to go to YouTube for the videos of the finals (our channel is JBT900, or just search 'JBT 2017 Main Event')
Click here for all 2017 Main Event Scholarship Earnings
Click here for Main Event (and other JBT) scholarship info
pre-Main Event stuff we'll leave up just because...
Please spread the word, and join us
for the fun and excitement of the 2017 Main Event, Dec 26-30 at South Point in Las Vegas!
The 2017 Main Event will have all the professionally run excitement and fun you've come to love, again at the unbelievably cool South Point Bowling Plaza!

The entry blank is available now!

Click here to download it- print it out and share it with everyone, everywhere- this will be an event not to miss!

What's great about Main Event?

THE LOCATION! The beautiful South Point Bowling Plaza, a separate 60 lane facility from the traditional bowling center, is an incredible, tournament-only facility designed for events just like this! South Point's hotel and casino, on Las Vegas Blvd just a few miles from the south end of The Strip, is world class at all levels! Plus, our room rates waive the dreaded 'resort fee', and there is even a shuttle you can schedule for airport pickup!

FLEXIBLE FORMAT! Don't have the time or budget for a long stay in Vegas? No problem! Our qualifying rounds are December 27-29, so you can start as late as the 29th, and get the whole tournament in for a one night stay! (Of course, we have lots of events to make a multi-day stay exciting and worthwhile!) So, you still have holiday time with your families, and you can also stay over for Team USA Trials (rooms 12/31 at South Point in our room block are a steal for New Year's, and the rates all week are great also!)

THE PRIZE FUND! All first place prizes are guaranteed regardless of entries, including the big $3,000 first place prize in Open Scratch Singles. 2016 saw over $35,000 awarded to bowlers of all ages and averages- we believe that Main Event is the best 'bang for your buck' you can find in youth bowling!

WARM UP SWEEPERS! Optional sweeper tournaments December 26 are your only chance to bowl on the Main Event pattern prior to the start of competition 12/27.

4-PERSON OPTIONAL TEAM EVENT! A great 'fun atmosphere' event to relieve the pressure of singles, it's also a chance for adults to show off their stuff- you can have a maximum of two adult (age 22 and over) bowlers on your team!

PLUS: All the great fun, competition, and professionalism you've come to expect at the Main Event! Click on the links below to find out more, , and start making plans for December!

CLICK ON ANY LINK BELOW FOR MORE DETAILS:

click here to print the flyer and/or enter the 2017 events- You can pay online here as well. Plus, print out an extra copy or two of the entry blank and spread the word everywhere you go!

click here for full details and entering average information on all the events December 26-30

click here for answers to frequently asked questions about Main Event

Click here for the direct link to South Point Hotel to book rooms under our block. Or, give them a call at 866-791-7626 and book under "JBT-Main Event 2017", or code JBT1221 online.

confused on how to figure out the correct average to submit? Click here.

MAIN EVENT SHIRTS:

You can order any other shirt in our terrific JBT shirt catalog with the Main Event logo instead of the usual JBT logo (or whatever else you want). Check out the catalog by clicking here or at any JBT event!

Logo Infusion, our merchandise provider, will be on-site all Main Event week with fantastic Main Event and Logo Infusion merchandise!

DO NOT USE THE AOL EMAIL BELOW! (We can't figure out how to get rid of it). Use director@bowljbt.com for all JBT and Main Event communication.