Welcome to the 2013
JBT Las Vegas Main Event!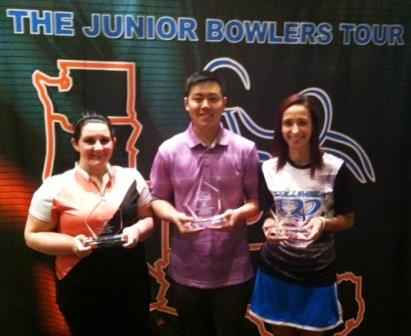 2013 singles champs Alexa Lanning, Oscar Chan, and Elise Bolton
Thanks to each and every one of you for bowling- please help us start spreading the word right now for the 2014 Main Event!
A talented field from 25 states took part in the 2013 Las Vegas Main Event, presented by Ebonite International and the Junior Bowlers Tour. After four exhausting days of intense competition, Oscar Chan, Diamond Bar CA, claimed the Open Scratch crown, Elise Bolton, Merritt Island FL, won the Girls Scratch title, and Alexa Lanning, Vancouver WA, triumphed in the handicap division. Over $20,000 in scholarships were earned by all ages and averages.
CLICK ON ANY LINK BELOW FOR MORE DETAILS:
Click here for the Open Scratch Singles final standings and recap
Click here for the Girls Scratch Singles final standings and recap
Click here for the Handicap Singles final standings and recap
click here for Scratch Doubles final results
click here for Handicap Doubles final results
click here for Scratch Team final results
click here for Handicap Team final results
Click here to see Junior Gold results
Click here for full game-by-game scores in all divisions
Click here for a combined, newspaper friendly results article
Click here to go to youtube for the videos of the finals (just search 'JBT Main Event 2013')
Click here for all 2013 Main Event Scholarship Earnings
Click here for Main Event (and other JBT) scholarship info